At Santander, you can expect next-level banking to help you reach financial milestones and further your success.
Get started. Easy to get your bonus.1
1. Open an eligible checking account
with the minimum deposit specified in your mailed offer by March 31, 2022.
2. Have direct deposits
totaling the amount specified in your mailed offer post to the account within the first 90 days starting the first business day after account opening.
3. Keep your account open
for at least 90 days and open at the time of bonus payment(s).
4. Once you meet these conditions,1
your bonus(es) will be paid directly to your new account within 30 days.
What you will need to open your new account:
Promotional Code – Your promotional code (on the mail you received) must be entered at account opening.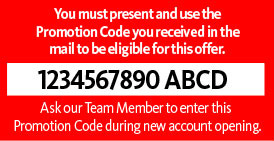 Social Security Number – to verify your identity.
Government Issued ID – a Driver's License, Passport, State, or Military ID.
Funds – a low minimum deposit using your credit or debit card.
Valid Email Address – to confirm you can receive important information about your account.
NO-HASSLE CHECKING WITH FIRST-RATE FEATURES.
Santander Select® Checking offers a higher level of benefits to help you thrive, because you deserve premium rewards, perks, and discounts that fuel your financial success.
SANTANDER SAFETY NET† waives overdraft fees for accounts overdrawn $100 or less.
HIGHLY RATED MOBILE BANKING APP Rated 4.7 out of 5 stars by Apple® App Store customers.2
WALK OUT WORKING We'll make sure your account and your Santander Mobile Banking App3 are up and running before you head out the door.
SANTANDER PROTECHTION Bank digitally with the confidence to manage your accounts and cards.4 Plus, set up alerts for greater security and peace of mind.
GROW YOUR SAVINGS From straightforward savings to money market accounts, ask us about solutions to help you set and surpass your saving goals.
Waive the $25 Monthly Fee with combined balances of $25,000 in bank deposits (consumer and certain business products
3
) and eligible investments** held with Santander Investment Services.
To explore even more benefits—from complimentary standard Priority Pass membership to advanced account security—visit
SantanderBank.com/SelectBenefits
.
Compare and choose. We invite you to learn about our great checking options.
Santander® Basic Checking

Simply Right® Checking

Santander Select® Checking

What it is
An account with a straightforward, predictable low Monthly Fee.
An account that allows you to waive the Monthly Fee with one transaction4 per calendar month.
Relationship banking that rewards your loyalty with better benefits and discounts.
How to waive
the Monthly Fee
(per service fee period)
Cannot be waived.
Simply use the account each month. Any transaction (deposit, withdrawal, transfer, or payment) posted to the account.6
Maintain combined balances of $25,000 in bank deposits (consumer and certain business products7) and eligible investments** held with Santander Investment Services.§
Minimum
Opening
Deposit
$25
$25
$25
ATM
Withdrawal Fee8
(domestic non-Santander ATM)
$3
$3
$0
Free Paperless
Statements
(selected in online banking)
Yes
Yes
Yes
Paper
Statements
(per statement)
$3
$3
$0
1 See your mailed offer for a detailed description of all terms and conditions. Offer is only available to residents of NH, MA, RI, CT, DE, NY, NJ, or PA. Eligibility detail for Florida: This offer is only eligible online in zip codes within Miami-Dade, Monroe and Broward counties, including zip code 34141. If your home address is outside of those counties or outside zip code 34141, the offer is not available for redemption online. The account needs to be open for at least 90 days and remain open in an eligible account type until payment of bonus, which will occur within 30 days thereafter. In addition, the account must be open and in good standing at time of bonus payment. The bonus is considered interest and will be reported to the IRS on Form 1099-INT. If multiple accounts are opened with the same signer, only one account will be eligible for the bonus. As of 01/01/2022, the Annual Percentage Yield (APY) for Santander Select® Checking is 0.01% and Santander® Private Client Checking is 0.03%. Rates may change at any time and after the account is opened. Fees may reduce earnings. Santander considers direct deposits to be automatic electronic deposits made through the ACH network to your account by someone else, such as an employer issuing payroll or a government or retirement plan paying benefits. It may not include deposits to your account that are made by an individual using online banking, an internet payment provider, or a merchant advancing payroll using a debit card.

2 275K ratings as of 1/19/2022.

3 In order to use the Santander Mobile Banking App for the first time, customers need to successfully complete the self-enrollment process, log in to the Mobile Banking App, and accept the Digital Banking Agreement and Electronic Communication Disclosure. Data connection required. Message and data rates may apply.

4 Santander Instant Card Hold will block most types of transactions, including purchases made with your card. Please note that some types of transactions will continue to process, including recurring debit/credit transactions presented to us by certain merchants for monthly membership or subscription fees.

5 Per Service Fee Period

6 Excludes fees, rebates, or adjustments posted by Santander.

7 Eligible business products include Business Checking, Savings, Money Market Savings, and Certificates of Deposit accounts, but exclude the following accounts: IOLTA, Bankruptcy, Brokered Deposits, Controlled Disbursement, Escrow, Government, and Union accounts. ** Eligible investments held with Santander Investment Services do not include the following: Annuities held at Mass Mutual, Allstate, Phoenix, Ohio National; Immediate Annuities or Annuities that have become annuitized; Mutual funds and 529 products not custodied by Pershing LLC or National Financial Services LLC; Insurance Products (with the exception of certain annuities held directly with a product sponsor).

8 Domestic ATMs are ATMs in the 50 United States, the District of Columbia, and Puerto Rico. ATM owner may charge a separate fee.

9 No Monthly Fee for Santander Savings with any personal Santander checking account or with $100 average daily balance per service fee period in the Santander Savings account (otherwise, $1.00). All other fees apply.

10 No Monthly Fee for Santander Money Market Savings with any personal Santander checking account or with $10,000 average daily balance per service fee period in the Santander Money Market Savings account (otherwise, $10.00). All other fees apply.
INVESTMENT AND INSURANCE PRODUCTS ARE:
NOT FDIC INSURED
NOT BANK GUARANTEED
MAY LOSE VALUE
NOT INSURED BY ANY FEDERAL GOVERNMENT AGENCY
NOT A BANK DEPOSIT


✝ Effective 11/08/2021, if a transaction causes your account s balance to be overdrawn by one hundred dollars ($100) or less, we will not assess any Insufficient or Unavailable Funds Item Paid fees for that item. The amount of each of the Insufficient Funds Item Paid Fee, Insufficient or Unavailable Funds Item Returned Fee, and Sustained Overdraft Fee is $35. The amount of the Unavailable Funds Item Paid Fee is $0. An Insufficient or Unavailable Funds Item Returned Fee may apply for any overdrawn amount. A Sustained Overdraft Fee applies to accounts overdrawn by any amount (negative balance) for five (5) consecutive Business Days when the overdrawn balance at the end of the first day is more than $100, and is assessed to the account on the sixth (6th) Business Day. Fees may be imposed for covering overdrafts created by check, in person withdrawal, ATM withdrawal, or other electronic means. Whether overdrafts will be paid is discretionary and we reserve the right not to pay. For example, we typically do not pay overdrafts if your account is overdrawn for an extended period of time or the overdrawn amount is excessive. Any overdrafts that we pay must be promptly repaid by you.
Santander Bank, N.A. is a Member FDIC. © Santander Bank, N.A. All rights reserved. Santander, Santander Bank, the Flame Logo and Simply Right are trademarks of Banco Santander, S.A. or its subsidiaries in the United States or other countries. All other trademarks are the property of their respective owners.

650402