How to receive your cash offer:
Open a new Santander checking account
Use the promotion code on the mailer you received to open an account in a branch. You must open your new account by 06/30/2023.
Have direct deposits totaling $4,000 or more in your account within the first 90 days.
Once you've completed the requirements and your account has been open for 90 days, your bonus will be paid within 30 days.
Services designed around your needs
Highly rated
Mobile Banking App3
Conveniently send money, check balances, and make mobile check deposits from anywhere.
Online appointment
booking
Simply book time online for an in branch appointment with your local Banker whenever you need assistance.
Easily find a branch or ATM across the Northeast; in Miami, Florida; or inside select CVS® locations.
Fewer fees with
Santander Safety Net
Get overdraft fees waived on overdrawn balances less than or equal to $100 and no fees for Overdraft Protection Transfers.4
Choose the checking account that fits your life
Whether you want an everyday account or a relationship banking account, you'll find products and services designed with you in
mind. To receive the offer, use your promotion code found on your mailer to open an account in a branch.
Santander Select® Checking
Relationship banking with enhanced benefits and discounts.
---
Complimentary bank services, including incoming wire transfers, Santander Select branded checks, stop payments, and more
ATM surcharge fee rebates of up to $30 per service fee period, and no foreign transaction fee for debit card purchases and ATM withdrawals
Access to personalized advice and guidance in investments with a Santander Investment Services Financial Advisor5
For additional details, please refer to the Personal Deposit Account Fee Schedule.
Santander® Private Client Checking
An exclusive interest bearing checking account that puts you into focus with our highest level of benefits and discounts.
Simply Right® Checking
A straightforward checking account that meets your everyday banking needs and includes an easy to waive Monthly Fee.6

Find Us
Branches across the Northeast and in Miami, Florida, plus
2,000+ ATMs
.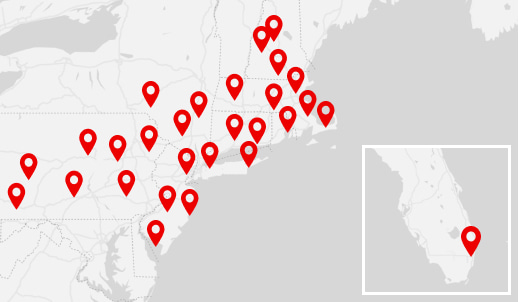 1Get $300 when you open a new Santander Select® Checking, Simply Right ® Checking, or Santander® Private Client Checking account ($25 minimum opening deposit on all) by 06/30/2023 and have direct deposits totaling $4,000 or more post to this account within the first 90 days. The 90 day period begins the day of account opening, unless the account is opened on a weekend or holiday, in which case the period begins on the first business day after account opening. Offer is transferable until redeemed by the addressee and we reserve the right, in our sole discretion, to limit the number of times this Promotion Code may be used. You must be 18 years or older. Offer is not available if any account owner is a current checking customer of Santander or had a Santander® Checking account in the last 12 months prior to account opening. Offer cannot be combined with any other bonus offer. Promotion Code must be entered at new account opening to be eligible for this offer, and cannot later be added to an account, or changed, unless it is presented and applied within 14 days of account opening. The account must remain open in an eligible account type until payment of bonus, which will occur within 30 days thereafter. In addition, the account must remain open and in good standing to be bonus eligible. Bonus is considered interest and will be reported to the IRS on Form 1099 INT. If multiple accounts are opened with the same signer, only one account will be eligible for the bonus. For new checking account customers only. Offer is only available to residents of NH, MA, RI, CT, DE, NY, NJ, PA, or FL. As of 4/1/2023, the Annual Percentage Yield (APY) for Santander Select® Checking is 0.01% and Santander® Private Client Checking is 0.03%. Rates may change at any time and after the account is opened. Fees may reduce earnings. Offer expires 06/30/2023. This offer is subject to change at any time. Offer is only valid with use of a Promotion Code. Promotion of this offer may end at any time.

2Qualifying Direct Deposits include your paycheck, pension, government benefits (such as Social Security), or other eligible regular monthly income from your employer or the government electronically deposited to your checking account. Direct Deposits do not include teller deposits, wire transfers, debit card transfers, ATM, Online and Mobile Banking transfers or deposits, person to person transfers (such as Zelle® or Venmo), or a merchant advancing payroll using a debit card.

3Rating by Apple® App Store customers. 4.7 out of 5 Rating. Based on 320K ratings on the app store as of 4/25/2023.

4If a transaction causes your account s balance to be overdrawn by one hundred dollars ($100) or less, we will not assess any Insufficient Item Paid fee(s) for that item. The amount of the Insufficient Funds Item Paid Fee, and Sustained Overdraft Fee is $15. A Sustained Overdraft Fee applies to accounts overdrawn by any amount (negative balance) for five (5) consecutive Business Days when the overdrawn balance at the end of the first day is more than $100, and is assessed to the account on the sixth (6th) Business Day. Fees may be imposed for covering overdrafts created by check, in person withdrawal, ATM withdrawal, or other electronic means. Whether overdrafts will be paid is discretionary and we reserve the right not to pay. For example, we typically do not pay overdrafts if your account is overdrawn for an extended period of time or the overdrawn amount is excessive. Any overdrafts that we pay must be promptly repaid by you.

5Securities and advisory services are offered through Santander Investment Services, a division of Santander Securities LLC. Santander Securities LLC is a registered broker dealer, member FIRNA and SIPC and a Registered Investment Adviser. Insurance is offered through Santander Securities LLC or its affiliates. Santander Investment Services is an affiliate of Santander Bank, N.A.

INVESTMENT AND INSURANCE PRODUCTS ARE:

NOT FDIC INSURED
NOT BANK GUARANTEED
MAY LOSE VALUE
NOT INSURED BY ANY FEDERAL GOVERNMENT AGENCY
NOT A BANK DEPOSIT

6Any deposit, withdrawal, transfer, or payment that is posted in the service fee period to the Simply Right® Checking account will waive the $10 Monthly Fee (excludes fees, rebates, and adjustments posted by Santander).

Member FDIC. © 2023 Santander Bank, N.A. All rights reserved. Santander, Santander Bank, the flame Logo, Simply Right, and Santander Select are trademarks of Banco Santander, S.A. or its subsidiaries in the United States or other countries. All other trademarks are the property of their respective owners.