Jumbo Loans: The right strategy in the real estate market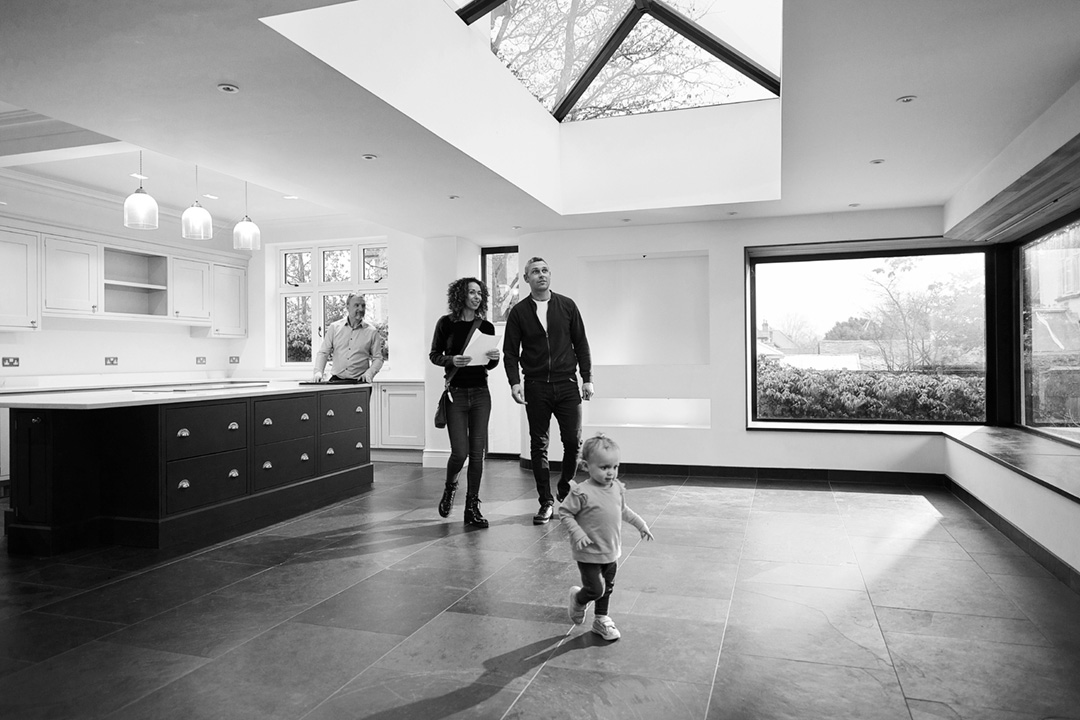 The pandemic continues to teach us that nothing is promised, and time is a luxury. After shelter-in-place orders, mandatory quarantines, parent-supported remote learning, and makeshift work-from-home set-ups, the purchase of a new home, as either an investment or an upgrade, has climbed to the top of many of our to-do lists.
"When shopping for a new home, we are now thinking: 'If I had to be in this home 24/7, would I be happy in this space?' The pandemic has caused us to see our home as a space that we have to enjoy being in and is functional," says Kendra Barnes, founder of The Key Resource, an educational platform focused on real estate.1
The perfect storm: more homebuyers, fewer homes
Unsurprisingly, trends in the national housing market paint a picture of buyers facing a competitive real estate market that shows no signs of slowing down anytime soon. Recent Redfin data2 confirms that sale prices of homes increased 22% from last year, a record high; 49% of homes sold for over asking price, another high; and homes spent 18 days on the market on average, a record low. Even homes with price tags north of $500,000 have experienced a comparably short shelf life. In some parts of our country, they saw an average of 49 days on the market; homes with values over $750,000—just 53 days.3
"Historic low-interest rates, which sit at 2.94% as of June 2021, have also prompted some buyers to pull the trigger and lock in these rates," says Justine Chan, founder of Live with Plum, a consulting company that helps women with home buying and renting.4
As a result, home-buying candidates, who used the pandemic spending hiatus to beef up their savings and secure promotions, have been left to find creative solutions to beat out the competition. "There simply aren't enough homes for sale in America for everyone with the desire and the means to buy one right now,"5 says chief economist of Redfin, Daryl Fairweather.
Conforming loans vs. non-conforming loans: what's the difference?
Rather than exclusively shopping for traditional conforming loans, savvy prospective home buyers have pivoted to explore the merits of using jumbo loans to access large amounts of cash so they can close on homes in this higher-cost housing market with confidence.
Conforming loans are non-jumbo loans that meet the loan amount limits set by the Federal Housing and Finance Agency (FHFA). For 2021, the maximum loan caps at $548,250 for single-unit homes in most parts of the U.S. but can go as high as $822,375 in Alaska and Hawaii, where the median cost of a home is above the national average. In other high-cost areas, loan limits are set on a county-by-county basis.
Jumbo loans, or non-conforming loans, on the other hand, are mortgages that exceed the $548,250 limits set by the Federal Housing Finance Agency (FHFA) this year. For example, home price averages for high-demand spots in Boston6 and Miami7 command $680,122 and upwards of $4 million, respectively.
Because the high-dollar amount surpasses the limits of conforming loans, they are also not eligible to be purchased or guaranteed by Fannie Mae or Freddie Mac, which adds "a higher risk for lenders in addition to stricter lending requirements,"8 says Chan.
Essentially, securing a jumbo loan requires stellar finances. Santander requires a minimum credit score of 720 for a jumbo loan, unlike conforming loan credit score minimums of 620. The best candidates for jumbo loans also possess a debt-to-income ratio no higher than 40%. For traditional conforming loans, a debt-to-income ratio up to 50% raises no red flags.
While the minimum down payment varies from lender to lender, conforming loan borrowers can close on a home with just 3%-5% of the purchase price. Jumbo loan hopefuls, who are serious about making their application and offer stand out, aim to bring at least 20% of the total home cost to the table.
Figuring out the best way to purchase a home amid a housing shortage is, paradoxically, an enviable dilemma. It signals a high level of financial preparedness and commitment to living life on your own terms.
Key takeaways
Santander Private Client is committed to helping you achieve your vision of prosperity. With interest-only jumbo loan, we can help make it easier for you to move into your dream home, and also have lower monthly payments. Because of their sizable down payments, jumbo loan owners may have more attractive mortgage options; they can take advantage of a 20-year term mortgage or go the traditional route with a 30-year term. Santander Private Client can help provide guidance on these types of strategies. This, along with our highly personalized service is what makes Santander Private Client, A Step Above in Banking.
1 (K. Barnes, personal communication, June 5th, 2021)
2 https://www.redfin.com/news/housing-market-update-home-prices-up-22-pct/
3 https://www.wxyz.com/news/moving-fast-homes-priced-at-500k-and-below-are-on-the-market-for-an-average-of-22-days
4 (J. Chan, personal communication, June 5th, 2021)
5 https://nationalmortgageprofessional.com/news/76803/national-median-home-sale-price-hits-record-april
6 https://www.zillow.com/boston-ma/home-values/
7 https://www.miamitodaynews.com/2021/05/11/powerful-new-rush-of-buyers-sends-housing-prices-soaring/
8 (J. Chan, personal communication, June 5th, 2021)
This article is intended for informational purposes only. Readers should consult their own financial advisers, attorneys, or other tax advisors regarding any financial or tax strategies mentioned in this article.
Equal Housing Lender. Santander Bank, N.A. is a Member FDIC and a wholly owned subsidiary of Banco Santander, S.A. ©2021 Santander Bank, N.A. All rights reserved. Santander, Santander Bank, and the Flame Logo are trademarks of Banco Santander, S.A. or its subsidiaries in the United States or other countries. All other trademarks are the property of their respective owners.