School schedules can get hectic, an on-the-go account can help. With a Student Value Checking account, you can save the fees for more coffees to keep you going.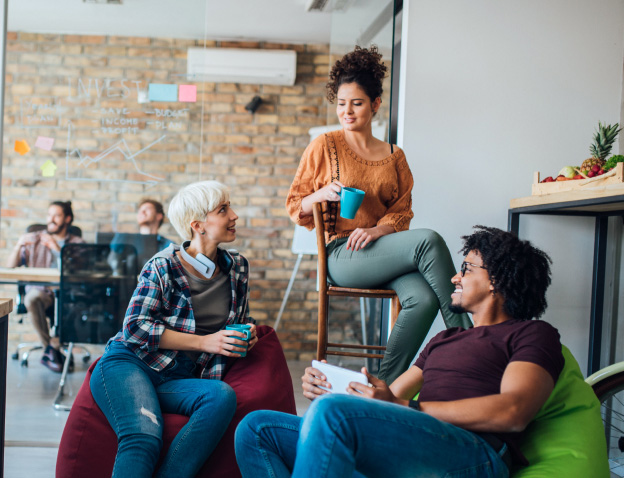 No Monthly Fee and no minimum balance requirement*
Designed with features to support students. Only available to students 14-25.†
Age 18-25? Open an account online today. Students age 14-17 can open their account with a legal guardian in-branch.
No minimum balance requirement
Reduced and no-fee benefits
Reduced cash withdrawal fee of $2 for domestic non-Santander ATM withdrawals‡

No fees for domestic and international incoming wire transfers
This account is not interest bearing
Statement delivery options
$3 for paper statements

$0 for paperless statements
Convenience in the palm of your hand
Flexibility when you need it most
The trust you need to bank confidently
Start learning about personal finance
Advantages of your Debit Mastercard®
A Debit Mastercard® deducts money directly from your checking account. You can use it to withdraw cash and shop anywhere Mastercard is accepted
Deposit with Mobile Check Deposit
Just take a picture of your signed check while you're on the go.
Santander Safety Net
Extra leeway goes a long way. Santander Safety Net waives overdraft fees for accounts overdrawn by $100 or less.¶¶
The financial foundation they need
Easy-to-digest guides to help your child learn the key concepts of building a strong financial foundation for the future.
Secure biometric authentication
Only you can unlock your information with Touch ID® and Face ID® for Apple and fingerprint for Android.††
Just tap and go
Conveniently make fast purchases with contactless payments. Just insert your card, swipe, or tap and go.
Manage your account
Make deposits, send money with
Zelle®
**
, check balances and more, all from the Mobile Banking App.
Lower and fewer overdraft fees§§
We've lowered our overdraft fees from $35 to $15 and we've eliminated the Item Returned Fee. You won't be charged a Paid Item Fee more than 3 times per Business Day.
Personalized learning plan
Answer a few questions to receive a personalized learning plan for your child or select the topics you want them to learn about.
Digital Banking Guarantee‡‡
Shop online, in-store, or make bill payments with Santander PROTECHTION by your side.
Shop securely
Shop online, in-store, or make bill payments with Santander PROTECHTION by your side.
Control over your cards
Create or update your PIN, update contact information, and report a lost or stolen card.
No Overdraft Protection Transfer Fee§§
You won't be charged Overdraft Protection Transfer Fees, so you can cover any overdrafts that happen before a fee gets assessed.
Wealth of information
Explore the courses together. We have financial topics for every age, like building financial capability, paying for college, and more.
Fraud protection
For digital security, our firewalls protect all your information stored in our database.
Works like cash
Use your card like cash with no interest or late payments.

Bank anywhere, anytime
Manage your account whenever and wherever you want with our Mobile Banking App.
Download our
Mobile Banking App
Unlock on-the-go features with our highly-rated Mobile Banking App.
Enroll in Santander
Online Banking
Manage your money securely by enrolling in Online Banking.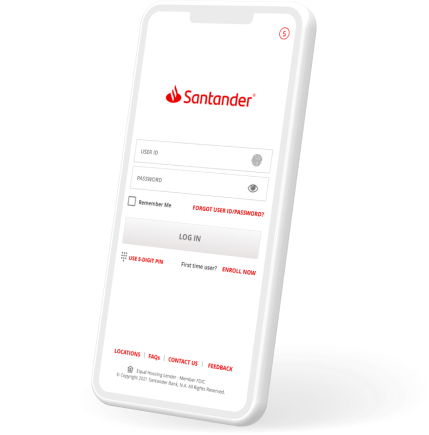 Book an appointment at a branch near you
Talk to one of our experienced Bankers about opening a new account or get help with your existing accounts.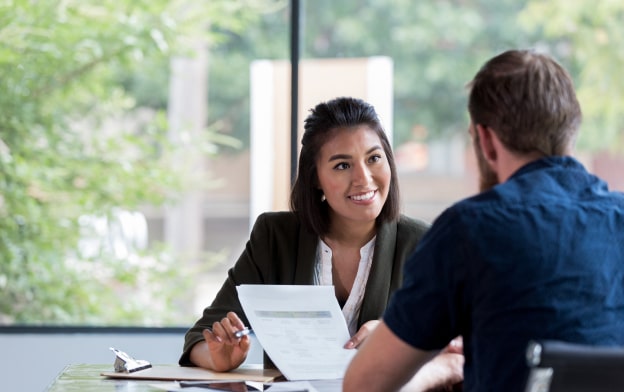 In order to open an account online, you will need a social security number, a valid email address, and an initial deposit. To open an account in a branch, you will need two forms of Identification, including a Primary ID — which is a valid, government-issued photo ID (Driver's License, Passport, State or Military ID), AND a Secondary ID — some examples include bank-issued ATM or debit cards, major credit cards, utility bills and birth certificates. You'll also need your Social Security Number (Non-Residents can still apply without a SSN or can use their Individual Tax Reporting Number if they have one), a valid address and phone number, and an initial deposit.
Your new debit card will typically arrive in 5-7 business days. Your PIN is mailed separately from the debit card and both are mailed to the address on file. Once you receive your card, be sure to sign the back of the card. You can activate your debit card through our Mobile Banking App, at any Santander ATM, or by calling 877-726-0631.
If you open your account online, you will need to make an initial deposit. You may fund your account with a debit card, credit card, ACH transfers, check, or by depositing cash. Speak to a banker about the different ways to fund your account.
Yes. A Santander® Savings account or Santander® Money Market Savings account may be opened online in conjunction with any checking account opened online. Santander Select® Money Market Savings account requires a Santander® Select checking account and Santander® Private Client Money Market Savings account requires a Santander® Private Client checking account.
Our general policy is to allow you to use up to $225 of all checks deposited on the next business day after the business day we receive your check deposits. The remainder, if any, of your deposit will usually be available on the second business day after the business day of deposit. In some cases, we may delay availability to withdraw funds beyond these periods. In such circumstances, we will send you a notice and the funds will generally be available on the sixth business day after the business day we receive your check deposits. Our full Funds Availability Policy can be found in the Personal Deposit Account Agreement or on our Funds Availability page.
Yes, you can open a joint account at a Santander Bank branch or online. To add a joint owner to your existing account, all parties must appear together at a Santander branch and will need to bring the following personal information: address, Social Security number, both government-issued ID and secondary form of identification.

Find Us
Branches across the Northeast and in Miami, Florida, plus
2,000+ ATMs
.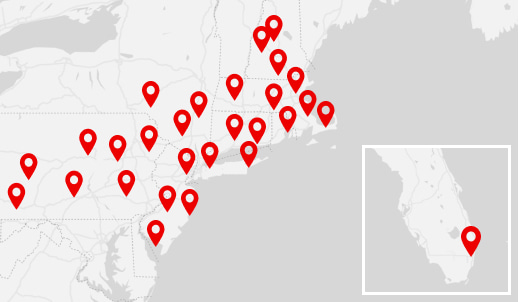 *Other fees may apply, including a Paper Statement Fee if you do not elect to go Paperless in Online or Mobile Banking. Refer to the Personal Deposit Product Guide and Fee Schedule for more details.

†Account is available to students 14-25 years of age (legal guardian co owner required for those between 14-18 years). Once you reach 26, we may convert your Student Value Checking to another checking product.

‡Domestic ATMs are ATMs in the 50 United States, the District of Columbia, and Puerto Rico. Other ATM fees may apply. Please refer to the Personal Deposit Product Guide and Fee Schedule for more details. ATM owner may charge a separate fee.

Please refer to your Digital Banking Agreement and Personal Deposit Account Agreement for details on your responsibility for promptly reporting unauthorized transactions.

**U.S. checking or savings account required to use Zelle®. Transactions between enrolled consumers typically occur in minutes and generally do not incur transaction fees. In order to send payment requests or split payment requests to a U.S. mobile number, the mobile number must already be enrolled with Zelle®. Zelle and the Zelle related marks are wholly owned by Early Warning Services, LLC and are used herein under license.

††If you share your device with other individuals, please note any fingerprints or face image stored on your device may be used to log in to the Santander Mobile Banking App and access your account.

‡‡Digital Banking Guarantee: When you use Online Banking, we guarantee that your money is protected against online fraud or losses and that your bills will be paid on time. You are protected against unauthorized online transactions as long as you check your statement and promptly notify us of any unauthorized activity. Refer to your Digital Banking Agreement for details on guarantees and your responsibilities for promptly reporting unauthorized transactions, as well as a list of supported mobile devices.

§§If a transaction causes your account's balance to be overdrawn by one hundred dollars ($100) or less, we will not assess any Insufficient– Item Paid fee(s) for that item. The amount of the Insufficient Funds – Item Paid Fee and Sustained Overdraft Fee is $15. A Sustained Overdraft Fee applies to accounts overdrawn by any amount (negative balance) for five (5) consecutive Business Days when the overdrawn balance at the end of the first day is more than $100, and is assessed to the account on the sixth (6th) Business Day. Fees may be imposed for covering overdrafts created by check, in-person withdrawal, ATM withdrawal, or other electronic means. Whether overdrafts will be paid is discretionary and we reserve the right not to pay. For example, we typically do not pay overdrafts if your account is overdrawn for an extended period of time or the overdrawn amount is excessive. Any overdrafts that we pay must be promptly repaid by you.

¶¶We limit withdrawals and transfers out of your savings and money market savings accounts. You can withdraw or transfer funds from a savings or money market savings account a total of six (6) times per Service Fee Period (such as by automatic or pre-authorized transfers using telephone, online banking, mobile banking, overdraft protection, payments to third parties, wire transfers, checks, and drafts). If you repeatedly exceed these limits, we may close or convert your account to a checking account, which may be a non-interest-bearing checking account.

Apple, the Apple logo, Apple Pay and Touch are trademarks of Apple Inc., registered in the U.S. and other countries. App Store is a service mark of Apple Inc., registered in the U.S. and other countries.