How to Find Your Escrow Balance or Shortage

Your Annual Escrow Statement is designed to provide detail of your escrow (or impound) account. It shows how much money was collected towards your escrow account and how much was paid on insurance and/or property taxes during the previous year. An Escrow Statement also includes estimates, or projections, for the coming year.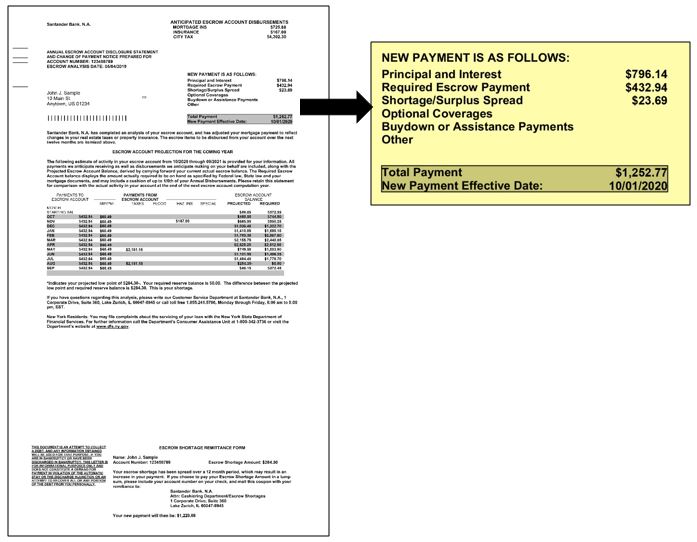 In the upper right section of your Escrow Statement is an area titled "New Payment Is As Follows." In addition to the monthly principal and interest payment amount, you'll see:
The new required monthly escrow payment amount.
Whether there's an escrow shortage or a surplus in your escrow account.
The new total monthly payment amount.
The effective date of the new monthly payment.

Common Escrow Balance Questions:
Why do I have a shortage in my escrow account?

Monthly escrow payments for each year are estimated by analyzing what was paid during the previous year. A shortage happens when increases in your taxes and/or insurance premiums occur, such that your monthly escrow payment is too low to maintain the minimum required balance in your escrow account. The minimum required escrow balance will be explained in more detail later in this article.

What is an escrow shortage?
Let's look at an escrow statement that explains the activity in an escrow account, and why an escrow shortage can occur. In the section titled, "Escrow Account Projection For the Coming Year," we explain why we maintain a required reserve (also known as a cushion) of up to two months (or 1/6th) of your annual escrow disbursements to cover tax and/or insurance payments made from your escrow account.
In this sample statement, the required reserve is $0.00. In this section, you'll see the lowest projected escrow balance, referred to as the "projected low point."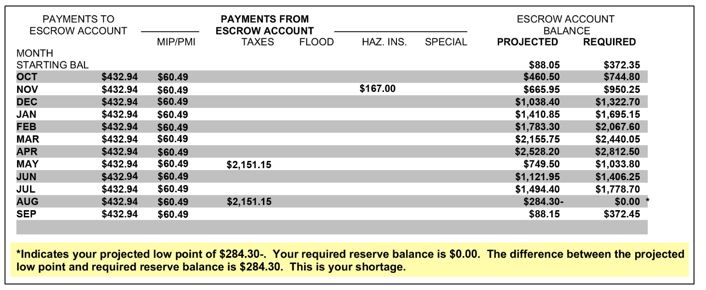 The sample escrow statement indicates a projected low point of $284.30-. This amount is compared to your reserve balance, or cushion, to determine if a surplus or shortage exists.
When the projected low point is less than the required reserve, a shortage occurs. This is also called an escrow shortage.
In our example, the required reserve of $0.00 is compared to the projected low point of $284.30-, resulting in a shortage of $284.30. We make covering this escrow shortage easy for our borrowers by dividing the shortage amount across at least 12 months. This monthly amount is referred to as the "Shortage Spread" and is shown in the "New Payment Is As Follows" section at the top of your statement.
In our example, the shortage of $284.30 is divided by 12 months, resulting in an increase of $23.69 to your monthly payment. This monthly amount is the "Shortage Spread."
Although spreading the shortage may be preferred for some borrowers, you can also choose to pay the escrow shortage in full, if the account analysis discloses a shortage of less than one month's escrow account payment. At the bottom of the statement is an "Escrow Shortage Remittance Form," which you could use to pay the shortage in full and would need to be paid within 30 days of the escrow analysis date. By doing this, the Total Payment amount indicated at the top of the statement would be lowered, and a new payment amount would result.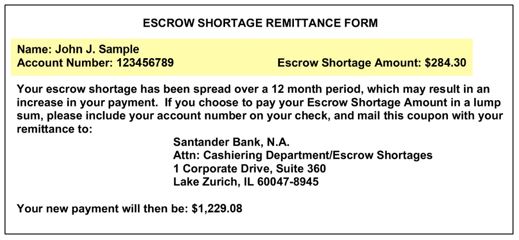 Please keep in mind that paying your escrow shortage amount in full will reduce your new monthly required escrow payment amount, but it will not lower the actual amount of your taxes and/or insurance premiums. Your new monthly required escrow payment depends on whether your taxes and/or insurance premiums have changed.
Your Escrow Account History and What It Means
In the section titled "Annual Escrow Account Disclosure Statement ‐ Account History," you can see the projected and actual deposits into your account, estimated and actual disbursements from your account, and the running escrow balance through the year.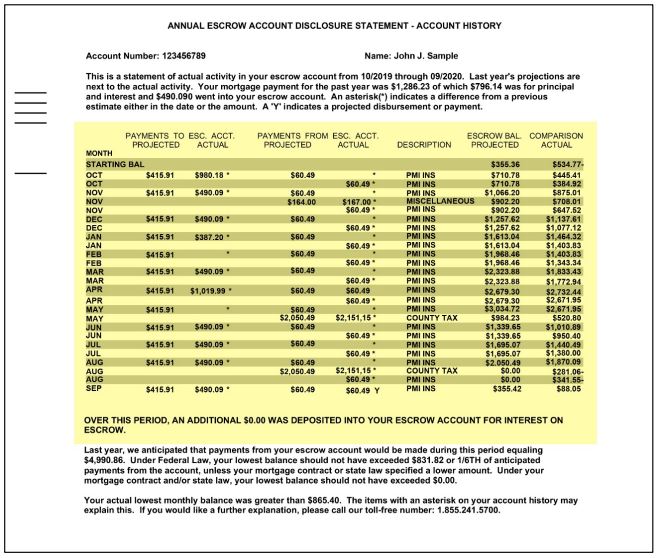 You can also see a breakdown of payments made on your behalf including insurance premiums, as well as payments for county, city, school, state, and local property taxes, as applicable.
Also in the "Account History" section, you may find possible reasons for a shortage.
For example: If the amount that was actually paid is higher than what was projected to be paid, a shortage in the escrow account may result. Looking at our sample statement, you can see that the actual payments for county taxes in May and August were each $2,151.15, which is higher than the projected payments of $2,050.49 each month. The actual payment amounts in the Account History section are then used to inform the projections in the coming year.

What can I do about an escrow shortage?
We understand it can be frustrating to see a shortage after regularly paying into your escrow account each month. Remember, we do not determine the amount of your taxes and/or insurance premiums. If the escrow payments do not look right, share the numbers with your insurance agent or taxing authority.

What if my escrow balance has a surplus?
Although we've been talking about a shortage, it can also be the case that you have a surplus in your escrow balance. If the surplus is equal to or greater than $50.00 and your loan is in good standing, you'll get that money back as a check attached to the bottom of your escrow statement. If the surplus is less than $50.00, the overage is returned to you through a reduction in subsequent escrow payments, from the payment effective date through the low point of the projection. For example, if you have a surplus of $48.00 and there are four months from the new payment effective date through the date of the low point in the projection, the payment for those four months would be reduced by $12.00.
We want your mortgage to be easy to manage. We hope this article helped explain how to read your Annual Escrow Statement. Information on other mortgage documents can be found in our Mortgage Resources section. You can always reach out to our customer service team, who will be happy to help you understand your statement. Contact a Customer Service Center Advisor today at 855-241-5699 from 8 a.m. to 5 p.m. ET, Monday through Friday. Please note that this information is intended for Santander customers in the United States; different rules and regulations apply to our customers outside of the United States.
All loans are subject to approval.

© 2021 Santander Bank, N. A.
Equal Housing Lender - Member FDIC