Commitment to our communities
At Santander, we believe responsible banking includes helping our communities prosper, succeed, and grow. Whether for individuals and families, small businesses, or entire communities, we work to build paths to prosperity.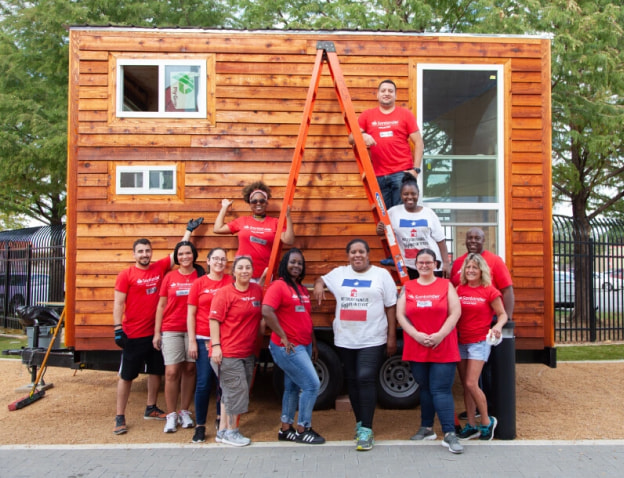 ---
Santander US is proud to have contributed more than $29 million to more than 400 nonprofits in 2022 through corporate charitable giving and the Santander Consumer USA Foundation.
Santander Bank contributed $12.9 million to 412 community nonprofit partners, primarily within its Northeast and Florida retail banking footprint, focusing on low- to moderate-income communities to help meet their needs in alignment with our Community Reinvestment Act (CRA) commitments. To apply, please visit our Grant Portal or Sponsorship Portal. Reach out to giving@santander.us with any questions.
The Santander Consumer USA Foundation contributed $14.5 million to 64 nonprofits, primarily to address community development needs in Texas. Contact the Foundation at foundation@santanderconsumerusa.com.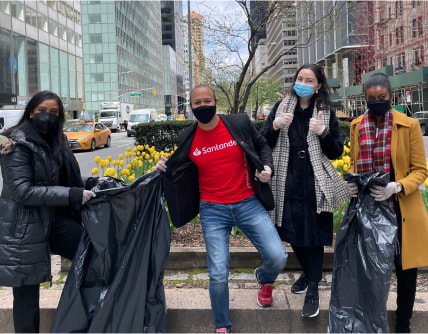 $29M
Given in support to nonprofits
55%
Of Santander Bank's grants went to organizations led by people of color

400+
Nonprofits supported
$50M
Commitment to address the digital divide and financial well-being of young adults
$13.6B
Committed through a three-year Inclusive Communities Plan.
39,003
Community development volunteer hours in underserved communities in 2022

Partnerships with community organizations and nonprofits strengthen the communities where we live and operate. Our roughly 15,000 employees bring life to these partnerships through their volunteer service, technical assistance provision, and coaching and mentorships. As stewards of our company, our team members make an incredible difference by giving back their most valuable resource their time.
Across the U.S., we know the value that volunteerism can provide in communities, especially underserved communities. In 2021, we engaged with our communities mainly in a virtual setting, providing more than 25,000 hours of volunteer service with more than 400 community organizations and nonprofit partners. At Santander Bank, 79% of volunteering occurred in low- to moderate-income communities, and 62% occurred in communities of color.
39,003
Volunteer hours
400+
Community partners
23,949
Individuals counseled on financial education
16 hours
Volunteer paid time off per full-time employee, annually
Santander's Cultivate Small Business program
---
We work hard to ensure we are providing tools and solutions to our customers to enable them to achieve their financial goals.
Apply
Applications are currently being accepted for businesses in Philadelphia, Dallas, and Miami (Cohort 8) until June 15th, 2023. Classes will run from September through November 2023, with graduation in December of 2023.
Applications for businesses in New York, New Jersey, and Massachusetts are closed for Cohort Seven (Spring 2023) and will reopen for Cohort Nine (Spring 2024) in November 2023. You can view our Cohort Five entrepreneurs here.
To apply, please visit our application link or reach out to CultivateSmallBusiness@Santander.us with any questions or to learn about future cohorts.
Pictured: business-owners of Carolicious in Somerville, MA who are alumni of the Cultivate Small Business program
Helping small businesses thrive
We assist early-stage, underserved food entrepreneurs, especially women, individuals of color, and immigrant-owned businesses, looking to grow and scale their businesses
We provide a four-month mini-MBA on industry-specific programs taught by Babson College, along with business coaching and mentorship, professional networking, and capital seed grants to help businesses grow
Since its inaugural year in 2017, the program has continued to expand beyond Boston and now has offerings in New Jersey, New York City, Philadelphia, Rhode Island, Dallas, and Miami
Financial education resource center
Santander also provides financial education resources for our customers and communities to help them prosper.
Helpful tips, articles, and ideas to help you confidently navigate your financial future.
Interactive modules on topics such as debt payoff, insurance, retirement, budget planning, and more.
Practical tips, ideas, and insights to help your business thrive, fuel your passion, and inspire success.
Our security tools keep your identity, information, and money safe, whether you are banking online, with your mobile device, or in person.
Learn how you can defend against common cybersecurity attacks to keep your online information safe.
Santander Consumer USA helps consumers get financing for new and used vehicles. Explore the Learning Center for resources that can help you navigate your journey.