Start growing your savings for what matters with features that make it easy to save. A Santander®
Savings account is a great companion to any
Santander checking account.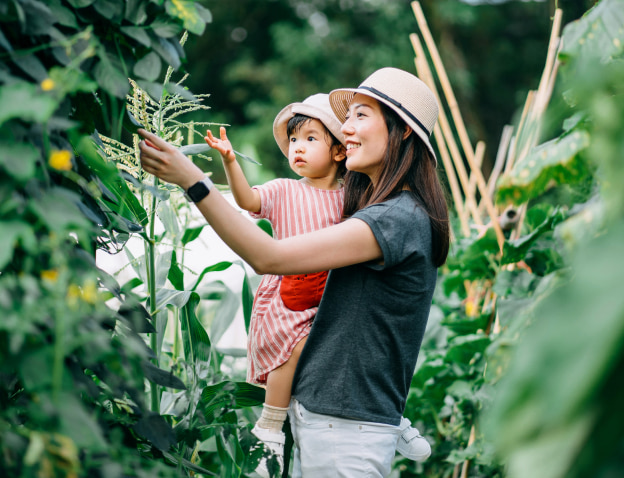 Waivable Monthly Fee
Enjoy a waived Monthly Fee when you have any Santander checking account.
$1 Monthly Fee, waived with any personal
Santander checking account or with a $100
average daily balance in the Santander Savings account. Additionally, the Monthly Fee is waived if any owner on the account is under age 26.
No minimum balance requirement when you have any personal Santander checking account
$0 to use at more than 2,000 domestic Santander ATMs for withdrawals

$3 for domestic non-Santander ATM withdrawals; $0 if any owner is under age 26.
The current interest rate and Annual Percentage Yield on the Santander Savings account is 0.03%‡
Statement delivery options
$0 for paper statements

$0 for paperless statements
Convenience in the palm of your hand
Flexibility when you need it most
The trust you need to bank confidently
Features to effortlessly save
Our digital features make saving for your goals as easy as possible with tools like automated transfers, Alerts, and more.
Deposit with Mobile Check Deposit
Just take a picture of your signed check while you're on the go.
Santander Safety Net
Extra leeway goes a long way. Santander Safety Net waives overdraft fees for accounts overdrawn by $100 or less.¶¶
Secure biometric authentication
Only you can unlock your information with Touch ID® and Face ID® for Apple and fingerprint for Android.††
Direct Deposit
Your employers may help with directly depositing a portion of your paycheck into your savings account.
Manage your account
Pay bills, send money with
Zelle®
**
, make transfers, and more, all from the Mobile Banking App.
Lower and fewer overdraft fees§§
We've lowered our overdraft fees from $35 to $15 and we've eliminated the Item Returned Fee. You won't be charged a Paid Item Fee more than 3 times per Business Day.
Digital Banking Guarantee‡‡
Shop online, in-store, or make bill payments with Santander PROTECHTION by your side.
Auto Save
Schedule recurring transfers from your Santander checking account or external account to keep your goals on track.
Control over your cards
Create or update your PIN, update contact information, and report a lost or stolen card.
No Overdraft Protection Transfer Fee§§
You won't be charged Overdraft Protection Transfer Fees, so you can cover any overdrafts that happen before a fee gets assessed.
Fraud protection
For digital security, our firewalls protect all your information stored in our database.
Alerts
Better manage your balance and account activity with notifications through email and text.
Bank anywhere, anytime
Manage your account whenever and wherever you want with our Mobile Banking App.
Download our
Mobile Banking App
Unlock on-the-go features with our highly-rated Mobile Banking App.
Enroll in Santander
Online Banking
Manage your money securely by enrolling in Online Banking.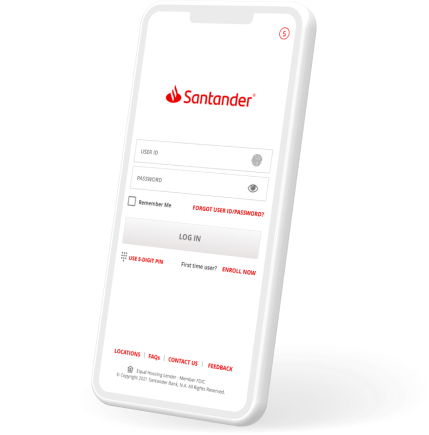 Book an appointment at a branch near you
Talk to one of our experienced Bankers about opening a new account or get help with your existing accounts.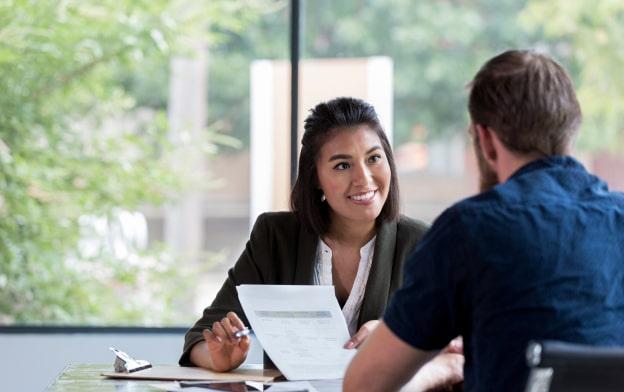 All savings accounts can be opened in a Santander Bank branch and the Santander® Savings account can be opened online. Santander® Money Market Savings, Santander Select® Money Market Savings, and Santander® Private Client Money Market Savings accounts can only be opened online in conjunction with an online checking account opening. Certificates of Deposit and Individual Retirement Accounts can only be opened in branch. To open an account, you will need:
Your Social Security number
A government-issued ID
Funds for an opening deposit
A valid email address
As long as you have everything you need, applying for a savings account online should only take 15 minutes.
You will begin to earn interest as soon as the funds in the account are available in the bank.
Yes, you can open a savings account jointly in branch or online with anyone 18 years and older, or a child under the age of 18 if you are their parent or legal guardian. Learn more about joint savings and joint checking accounts.
Interest accrues daily and is credited to your account monthly.

Find Us
Branches across the Northeast and in Miami, Florida, plus
2,000+ ATMs
.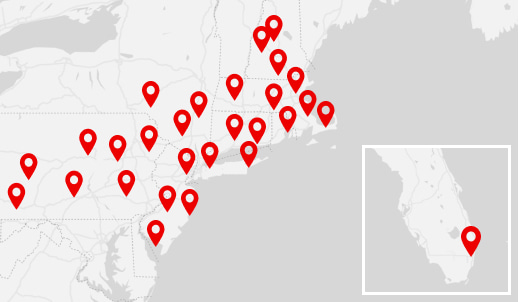 *Per service fee period.

†Domestic ATMs are ATMs in the 50 United States, the District of Columbia, and Puerto Rico. ATM owner may charge a separate fee.

‡0.03% Annual Percentage Yield (APY) is available when you open a Santander® Savings account. This is a variable-rate account and the rate may change at any time. Rates shown are in effect as of today. Fees may reduce earnings. A minimum deposit of $25 is required to open a Santander® Savings account. Personal accounts only. The Monthly Fee is waived when you have any personal Santander® checking account or an average daily balance of at least $100 (otherwise, $1). All other fees apply. Contact a banker for further information about applicable fees and terms.

**U.S. checking or savings account required to use Zelle®. Transactions between enrolled consumers typically occur in minutes and generally do not incur transaction fees. In order to send payment requests or split payment requests to a U.S. mobile number, the mobile number must already be enrolled with Zelle®. Zelle and the Zelle related marks are wholly owned by Early Warning Services, LLC and are used herein under license.

††If you share your device with other individuals, please note any fingerprints or face image stored on your device may be used to log in to the Santander Mobile Banking App and access your account.

‡‡Digital Banking Guarantee: When you use Online Banking, we guarantee that your money is protected against online fraud or losses and that your bills will be paid on time. You are protected against unauthorized online transactions as long as you check your statement and promptly notify us of any unauthorized activity. Refer to your Digital Banking Agreement for details on guarantees and your responsibilities for promptly reporting unauthorized transactions, as well as a list of supported mobile devices.

§§If a transaction causes your account's balance to be overdrawn by one hundred dollars ($100) or less, we will not assess any Insufficient– Item Paid fee(s) for that item. The amount of the Insufficient Funds – Item Paid Fee and Sustained Overdraft Fee is $15. A Sustained Overdraft Fee applies to accounts overdrawn by any amount (negative balance) for five (5) consecutive Business Days when the overdrawn balance at the end of the first day is more than $100, and is assessed to the account on the sixth (6th) Business Day. Fees may be imposed for covering overdrafts created by check, in-person withdrawal, ATM withdrawal, or other electronic means. Whether overdrafts will be paid is discretionary and we reserve the right not to pay. For example, we typically do not pay overdrafts if your account is overdrawn for an extended period of time or the overdrawn amount is excessive. Any overdrafts that we pay must be promptly repaid by you.

¶¶We limit withdrawals and transfers out of your savings and money market savings accounts. You can withdraw or transfer funds from a savings or money market savings account a total of six (6) times per Service Fee Period (such as by automatic or pre-authorized transfers using telephone, online banking, mobile banking, overdraft protection, payments to third parties, wire transfers, checks, and drafts). If you repeatedly exceed these limits, we may close or convert your account to a checking account, which may be a non-interest-bearing checking account.

Apple, the Apple logo, Apple Pay and Touch are trademarks of Apple Inc., registered in the U.S. and other countries. App Store is a service mark of Apple Inc., registered in the U.S. and other countries.