Business Money Market Savings account
Earn more on what you save, thanks to an attractive interest rate. Plus, enjoy the flexibility to access your funds when you need them.
See our current rates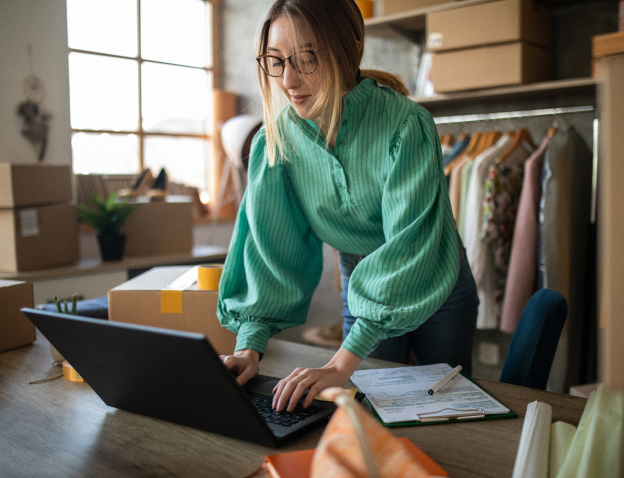 Account features & benefits
Earnings
---
Receive a competitive interest rate on your excess cash.
Protection
---
Use the account as overdraft protection for your business checking account.
Accessibility
---
Make up to six electronic transfers and withdrawals each service fee period.2
Waived Monthly Fee
---
Waive the $10 Monthly Fee with an eligible Santander Business Checking account with the same ownership, or if you maintain a $1,000 average daily balance in your Business Money Market Savings account during the service fee period.1
Business Money Market Savings rates
| Balance | Interest Rate1 | Annual Percentage Yield (APY)1 |
| --- | --- | --- |
Book an appointment at a branch near you
Talk to one of our experienced Bankers about opening a new account, or get help with your existing accounts.
The flexibility you need to do business while you're busy
We're here to support your unique small business
Forthcoming with our customers, like all banks should be
Customization and agility
Helping you achieve your business goals and needs by diving deeper into your operations and cash flow, bringing ideas and alternatives to the table.
Fees explained up front
We're honest about the cost of doing business, the same way you are with your customers. no surprises and no sneaky fine print.
Geared toward sustainable success
While we're committed to meeting your needs today, we also have one eye on the future. We're here to build on your foundation and fuel growth.
Open communication
Alerts, secure messages, and a dedicated team of small business banking experts to guarantee satisfaction as best we can.
Access your digital banking tools
Make deposits or ACH payments, transfer funds, check balances, set different access levels for employees, and more.
Partnership and guidance
Let us help you navigate the surprising challenges and opportunities that growth brings, whether it's big picture or day-to-day.
Customized alert
Enable alerts on account deposit(s), debit(s), low balance, incoming and outgoing wire payments, and more. Refine alert settings to your preferences.
FAQs: Business Money Market Savings
We limit withdrawals and transfers out of your money market savings accounts. You can withdraw or transfer funds from a savings or money market savings account a total of six (6) times per service fee period (such as by automatic or pre-authorized transfers using telephone, online banking, mobile banking, overdraft protection, payments to third parties, wire transfers, checks, and drafts). If you repeatedly exceed these limits, we may close or convert your account to a checking account, which may be a non-interest-bearing checking account.
You will begin to earn interest as soon as the funds in the account are available in the bank.
There is a $10 Monthly Fee. The fee is waived if you either: maintain a $1,000 average daily balance in your business money market savings account during the service fee period, or have an eligible Santander Business Checking account with the same business ownership.1 Read our Fee Schedule.
Interest accrues daily and is credited to your account monthly.
You can check your balance in your Business Online Banking profile, on the Santander Business Mobile Banking app, on your account statement, at an ATM with your ATM card or linked debit card, or at your local Santander branch.
Yes, you can write checks from money market savings accounts. Checks written on a money market savings account will count toward your six withdrawals and transfers limit per service fee period.2
Useful links and documents

Find Us
Branches across the Northeast and in Miami, Florida, plus
2,000+ ATMs
.